DDS Signage helps reduce perceived wait times while sharing practice information, highlighting new technology and services, introducing specials, entertaining with dental tips and trivia, and building your brand with fresh content all year long.
With pre-made templates, ideas, and customizable solutions DDS Signage will keep your patients engaged, entertained, educated, and informed about all of the great things happening at your practice. In addition to reduced perceived wait times; digital signage is a proven way to increase ROI with content about revenue producing services at your practice.
13 minutes
The average patient waits about 13 minutes for the dentist.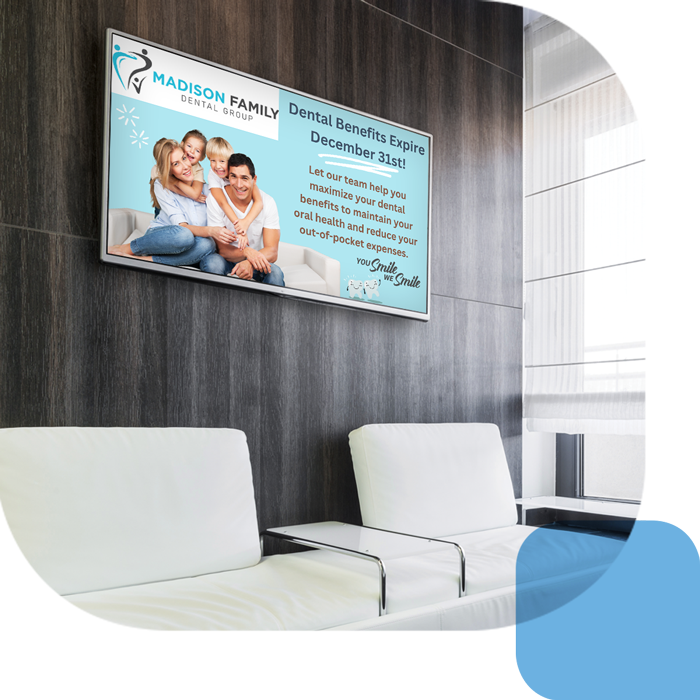 What can you highlight with DDS Signage?
Showcase your social media accounts, i.e. Facebook, Instagram, Twitter…
Run local weather and feeds for national or local news, sports teams, and so much more.
Share fun photos of your staff and happy patients.
Provide them with seasonal tips and dental topics.
Display patient reviews from Facebook and the web.
Inform them about referral rewards and new patient specials.
Educate them about cosmetic dentistry treatments and dental health.
Highlight practice specials: whitening, Invisalign treatments, smile makeovers, veneers, and sealants.
Provide useful dental tips and reinforce regular dental visits.
Introduce your in house insurance/discount program for patients without dental insurance. No problem.
Link to dental videos or provide them with entertaining dental trivia.
Dental Samples
Click the link below to view a sample of Dental Videos, Dental Still Ads and our extensive library of entertaining content including, trivia, humor, observances, holidays, history, inspiration and other targeted information specific to your practice and patients.
Anything is possible with DDS Signage from Dentistry on Hold!
And it all costs just $79 per month!
How It Works
DDS Signage provides a content player and access to our platform full of dental signage templates, feeds and tools to create the look you want. We'll help you with content creation or you can use your own creativity to produce new content at any time.
UPDATE THE CONTENT ANY TIME YOU WANT. We'll also provide fresh templates over the year related to seasonal dental topics, Holiday items, flexible spending accounts, and more.
We can connect to existing televisions or screens in your waiting area. Our media player simply needs a network or wifi connection to access our cloud site for instant updates.
Don't have a screen? With the affordability of screens you can do it yourself, or we can help you find an AV contractor in your area to purchase and install the screens from. Then, we'll work together to connect our player.
Did you know:
On average, one additional on-premise sign results in an increase in annual sales revenue of 4.75%
68% of American consumers have made a purchase because a sign caught their interest
1 in 5 people made an unplanned purchase after seeing an ad via Digital Signage
59% of people who see digital signage want to learn more about an advertised topic.
Digital displays capture 400% more views than static displays
Digital signage decreases perceived wait time up to 35%
Pricing
---
Only $79 per month
This provides access to our dental templates and tools to create fresh signage any time you want.
---
$125 for the digital content player and $150 activation which includes template design and template library configuration.
---
Includes:
Creation of custom content rotation with your practice logo, staff photos, social media sites, patient reviews, practice videos, and practice specials.24/7 access to all of your content on our platform so you can edit, create, or change content any time you want. Need help updating – we will gladly help you update custom content any time.
24/7 access to our Dental Content library which includes animated dental videos, educational dental videos, and dental treatment topics.We also have a vast selection of human-interest content to add to your mix like trivia, word games, humor, inspirational messages, history, holiday, travel and more great content outside of dentistry.
Live RSS feeds to scroll sports scores, news stories, entertainment news, trending topics, humor, along with local weather reports and more.
---
Looking to add entertaining television shows to your custom content?
For $129 per month you'll also have access to over 50 channels with no commercial interuptions. The channels you choose will be blended your custom content, practice promotions, and content library selections. Your own Private TV station that keeps patients happy, engaged and entertained while promoting your practice. Save the cable television fees with fun channels and ROI producing content.
---
**If you have more than one screen let us provide a custom price for you.
Contact Us
Complete the form below or give us call at 1-800-811-8282. We'd love to hear from you.